Much has changed in the past 15 months since Campbell Rawson's Victorian PGA triumph yet the intention remains the same.
A year in which he had planned to use his status as an ISPS HANDA PGA Tour of Australasia winner to play up to 30 events and take his game overseas was effectively wiped out by COVID-19. This week's Victorian PGA Championship at the Moonah Links Resort represents a chance to put that plan back into action.
A Kiwi who grew up playing golf with Ryan Fox in Auckland but moved to Adelaide a decade ago after being scouted to play AFL, Rawson turned to professional golf in 2015.
He registered just two top-10 finishes from 47 starts prior to the 2019 Vic PGA at Cape Schanck where he barely made the cut, weekend rounds of 65-64 enough to finish one shot clear of Marcus Fraser.
It was a win no form guide could have predicted but instilled a sense of belief in Rawson that he was now ready to take his game to the world.
"At that point in time it was a nice little confidence boost to go and have a crack overseas," recalled Rawson, who has spent much of the past year consulting as a stock market analyst.
"It was certainly a real confidence booster in terms of proving to myself that when I was under pressure, I was able to perform. Everyone likes to think that they can do that but until you really do it, it is a bit of an unknown.
"After winning I went to the Aussie Open and finished 30th without really getting out of second gear and then went over to Asian Tour school and missed out on a card by a couple of shots.
"From there COVID hit and we didn't get to play again.
"From where I was sitting I was prepped to play 25-30 events in 2020 and thought it was going to be a breakout year for me.
"Definitely a chance to restart and kick-start things from here this week."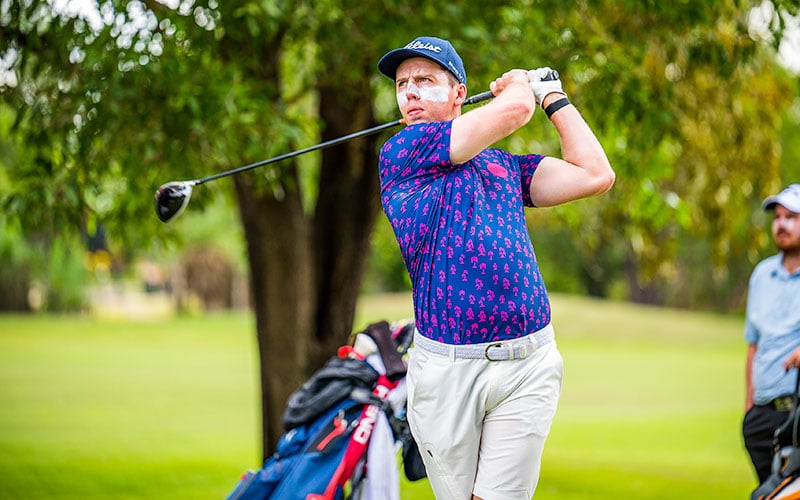 Now 32 years of age and father to eight-week-old Rex, Campbell Rawson is confident that he has knocked off enough of the rust the past two weeks to give a good account of his title defence, albeit on two different golf courses than the one he won on.
Opening with a 10 at the Gippsland Super 6 was admittedly worse than he expected but he and his coach Adrian Wickstein have seen enough to know that there are positives to be taken from two missed cuts.
"Over at Gippsland through two rounds my coach figured out that I'd made the third-most birdies in the field but I missed the cut," said Rawson, who missed the cut at The Players Series by two strokes.
"I was 7-over through two holes and got it back to 1-over for the first round and then I was 2-under for the second round and made a triple on a par 3 with four holes to play after a bit of a bad break.
"I was doing a lot of good things – and the same applied last week – but just too many soft mistakes."
Relatively late to the professional ranks, patience has been a critical element to Rawson's development as a golfer.
History may suggest time is running out but he need only look to his childhood sparring partner to know that opportunities from the PGA Tour of Australasia are possible.
"Ryan and I grew up together in Auckland. Our junior golf was founded upon who can hit it harder and who can hit it further, and naturally he won most of those," Rawson said of Fox, who used a maiden Tour win at 27 years of age to propel him to the European Tour and Major championships.
"Seeing how he transitioned, how he went through the New Zealand golf scene, what he did in major amateur events and then transitioned to a pro… Seeing that it still took him three years or so to mature into a professional player and hone his game a little bit more just shows the patience required.
"At the same time, it does give you the confidence that when I'm on, I can compete with Ryan and encouraging to see that he's done it so there's no reason that I can't."
The Victorian PGA Championship will be played over both the Legends Course and Open Course at Moonah Links on Melbourne's Mornington Peninsula from 4-7 February with professionals to be paired up with an amateur playing partner for the Victorian PGA Celebrity Amateur Challenge.
Kiwi players in the field this week and their first-round tee times in NZDT.
Sun Jin Yeo – 1st tee on Legends Course at 9.30am
Mike Hendry –  9th tee on Legends Course at 9.35am
James Anstiss – 9th tee on Legends Course at 10.05am
Daniel Hillier – 1st tee on Legends Course at 10.20am
Luke Brown – 9th tee on Legends Course at 10.25am
Campbell Rawson – 9th tee on Legends Course at 2.40pm
Luke O'Sullivan – 9th tee on Legends Course at 3.40pm
Thanks to PGA of Australia for words and images.
Advertisement
Sign up to our NZ Golf Updates