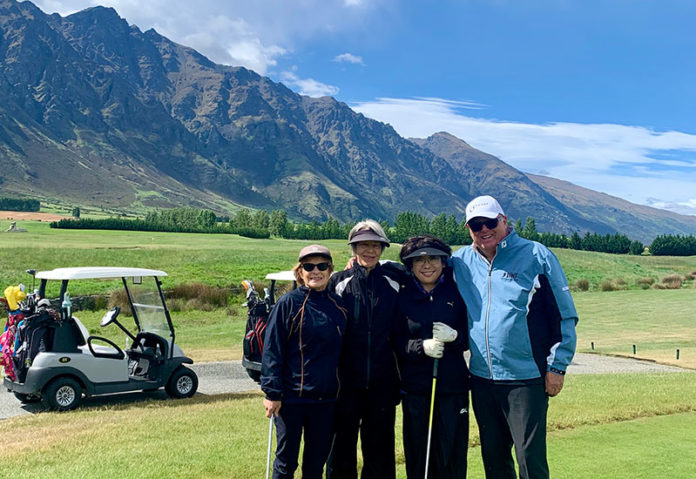 When the 2021 NZ Golf Open became an almost inevitable Covid 19 casualty Tournament Director Michael Glading was as disappointed as anyone involved. Many lesser mortals may have packed a sad and thought "that's my job gone for a few months."
Not Glading. He immediately got his thinking cap on and thought, "how can I do something to at least bring some golfers a pleasant golfing experience in the homeland of the NZ. Open and at the same time bring some financial benefits to the area."
Realising Millbrook Resort was going to suffer from the loss of hundreds of bookings for the week of the NZ Open he approached Millbrook management and floated the idea of hosted boutique golf tours during spring and summer….and so the marriage of Glading and Millbrook produced Coronet Golf Tours.
Glading said, " the idea was to keep them more niche and intimate and good value for money. We wanted everyone to have a good time and I thought we could achieve that if we kept the numbers to around a maximum of 20."
The format for the tours includes four nights of luxury accommodation at Millbrook with buffet breakfast each morning…plus… and this was a huge plus over many other tours, evening meals are also included with all participants enjoying their meal together at one of the award-winning restaurants.
As for the golf, there is a round at Millbrook, then it is Jack's Point on day two and a final round at Millbrook on day three. With prizes each day and major overall prizes, there are plenty of opportunities to share in the spoils.
The first event in October was a hit and many said they would be back. This writer and my wife paid our money and joined the November group and we can say that without a shadow of a doubt this was one of the best, if not the best golf tour we have ever enjoyed and we have done many in New Zealand and overseas. We would not hesitate to repeat this experience.
There is no question that the smaller group has advantages. It was a totally relaxed experience with no pressures of any sort on players. It also made it easy for the courses involved to accommodate the group and even where necessary, to change tee times. It avoided any noticeable disruption to everyday activities for each venue.
There were many highlights, but right at the top was the camaraderie during dinner each evening. The laughter never letup as hilarious repartee(insults???) were given and received in good humour. I could not believe we could have four sumptuous evening meals together and spend the same amount of time (165 minutes) enjoying each one. Of course, friendships have been made and further golfing dates have been locked in.
The December group is fully booked despite thoughts from some that nobody wants to do a golf tour in December. There are tours planned for January 19-23, March 14-18 and tentative dates for April 27 to May 1.
There is no tour in February as Glading has arranged a five-day tour for a number of the amateurs who would have been involved in the NZ Open ProAm.
"We expect 30-35 players to come down Feb 23rd and depart on the 28th. This will be an exclusive event as we entice our supporting amateurs back to Queenstown in this gap year," Glading said.
What about the future for Coronet Golf Tours….such as later in 2021? Glading said, "We will definitely look at that prospect as we want to be different to the many golf tours on the market."
I can certainly agree with those sentiments. Coronet Golf Tours is certainly worth considering and the costs are more than reasonable.
**Our writer and his wife were paying participants on the tour.
Advertisement
Sign up to our NZ Golf Updates