Jeongeun Lee6 added her name to the all-time golf record books today with a bogey-free, 10-under 61 in the second round of the Amundi Evian Championship and ties fellow Korean star Hyo Joo Kim's first round at Evian-Les-Bains in 2014 for the lowest round ever at a major championship, male or female.
"I had a lot of birdie chances," said Lee6. "I could play easily. My putting was really, really good, so, yeah, that's it."
Lee6's 61 handed her the lead after 36 holes at 15-under in the season's fourth women's major, a three-stroke advantage over Thai compatriots Ariya Jutanugarn and Pajaree Anannarukarn. Her 36-hole score of 127 is also the lowest 36-hole total in men's or women's major championship history, passing the 128 turned in by Brooks Koepka at the 2019 PGA Championship and the 129s by In Gee Chun at the 2016 Amundi Evian Championship and Louis Oosthuizen at the 2021 Open Championship.
2015 Evian winner Lydia Ko shot a 65 on day two to jump into a tie for fifth at 9-under. She is joined by 19-year-old American Yealimi Noh, who shot a 3-under 68 after entering the day tied for the lead with Anannarukarn following 18 holes.
Ko started her round late in the day once Lee6's record round had been completed and it had a positive effect on the former champion.
"Actually I saw it on the leaderboards as I was playing and I was like, Okay, and I was 1-over at that point. So I felt like I was being lapped quite a few times," Ko explained.
"But we've had such beautiful weather and the course is drying out, so a lot of our drives are going much further than any other times, and with short are clubs coming in it obviously makes it a little easier to attack the pins, especially on undulating greens.
"I tried my best out there. Obviously not comparable to 6's score, but you just got to play your own game and see where that finishes you at the end of the day.
Ko only had one dropped shot on day two, which was on the first and then she proceeded to snare seven birdies including five on the back nine. Tomorrow she will be teeing off in the secnd last group when the course should be at its best.
"I've been hitting the ball really well leading up to this week and yesterday was kind of scrappy, but today felt like I hit it a lot better and my irons were good.
"I just think kind of play with trust and conviction and just hit it aggressively and just believe in myself and enjoy it."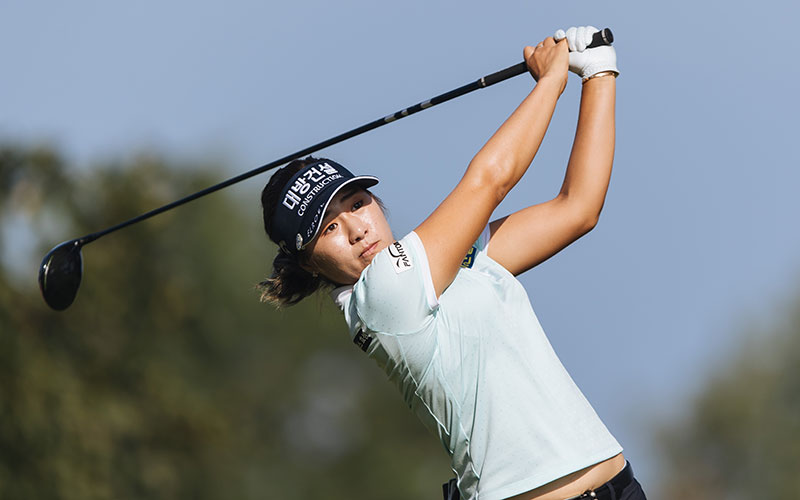 After starting on No. 10, Lee6 made the turn at 4-under 32. She added birdies at Nos. 1 and 4, then inked her name into golf history with a run of four consecutive birdies to close her round, including a chip-in from the greenside rough at No. 8. With 61 on the line, she laid up to 105 yards and with a 50-degree wedge, spun the ball back to 16 feet. And without a bit of hesitation or nerves, Lee6 calmly stroked in the birdie putt, punctuating the moment with a small fist pump and a hug of appreciation from her caddie David Buhai.
Ever the humble athlete, Lee6 kept her thoughts simple when asked the key to her record-setting round: "I try to keep it on the fairway and keep it on the green and I focused on putting speed," she said.
"That's it."
Perhaps Buhai said it best, after being an up-close-and-personal witness to one of the greatest rounds in major history.
"I caddied in a 9-under, but it was just in a small tournament. To do it under this, and every putt looked like it was going to go in. It was incredible. Not one nerve. Speed was just perfect," he said.
"I had the best seat in the house. And I just kept my mouth shut. I wasn't getting involved because she was that focused. It was just incredible."
The 2021 Amundi Evian Championship marks the major's return to the LPGA Tour schedule after it was not held in 2020 due to the COVID-19 pandemic. Defending champion Jin Young Ko, who took the title in 2019, bounced back from an opening-round 72 with a 1-under 69 on Friday. She enters the weekend in a tie for 40th at -1, in a group that includes Rolex Rankings No. 1 Nelly Korda and 2019 Evian runner-up Jennifer Kupcho.
The cut came at 1-over par, with 77 players reaching the weekend.
Advertisement
Sign up to our NZ Golf Updates