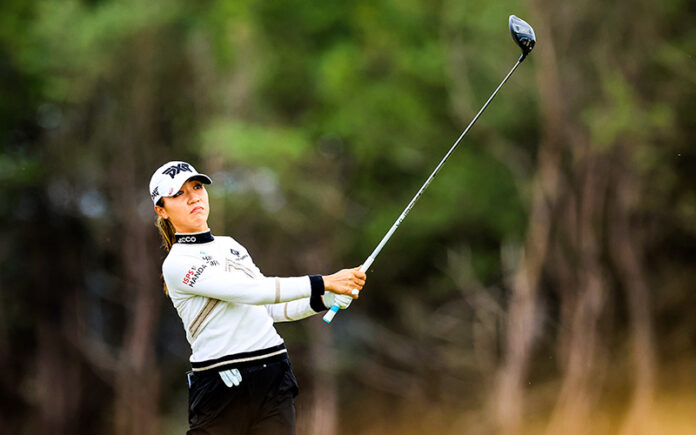 Lydia Ko has shot a course record 63 but still fallen three shots short of winning the Trust Golf Women's Scottish Open at Dumbarnie Links in Fife Scotland.
Ko's extraordinary round, which was shared by Ally Ewing who also shot 63 on the final day, included seven birdies and an eagle on the 17th for her second consecutive round without dropping a shot. She tied with Atthaya Thitikul for second on 14-under one ahead of Ariya Jutamugarn on 13-under.
Ko said she was happy to end the week riding a wave of confidence before she turns her attention to the major championship at the AIG Women's Open at Carnoustie next week.
"I actually haven't played well at the Scottish Open before, so it's definitely nice to finish on a high," Ko said.
"The wind was a lot calmer today, made it a little bit more gettable. I think I played really aggressive – well, I tried to stay pretty aggressive and that's kind of been the mindset feeding off of last week."
Ko came into Fife after earning the Olympic bronze medal in Tokyo and had to deal with changing timezones and a drop in playing temperature of around 25 degrees each day.
"I actually hit the ball well on first day and I couldn't really hole anything, and today holed a few putts and made a few good up-and-downs.
"Had a few good looks for eagle and one I converted and one I didn't. But all in all I played solid and I think all you can do is just trust your game and I feel like a lot of good things are there.
"I was just trusting it and all day like I thought on last day of the Olympics, what is meant to be is going to be. I think with that mindset, putts a lot less pressure on it and I'm out there just playing golf and not trying to do — like trying to get extra out of something that I can't control."
Ko is on a roll after finishing with the second-highest score in her past two tournaments and now all her attention turns to the final major of the year before a well earned month off.
"I think overall having a good finish here, hopefully that gives me good momentum into next week. This was great golf course leading up to Carnoustie. This is a true links, and obviously we know what Carnoustie is like.
"I'm super excited for next week and learn from this week and kind of take the positives and work on the things that I feel like needs to be worked on. Have fun out there and see what happens."
In her 228th start on the LPGA Tour, Ryann O'Toole can finally call herself an LPGA Tour champion.
The 11-year veteran took complete control of Dumbarnie Links and notched her first-career victory at 17-under par after a fourth-round bogey-free 64 at the Trust Golf Women's Scottish Open. O'Toole becomes the sixth-different American to win in 2021 and the sixth Rolex First-Time Winner of the season.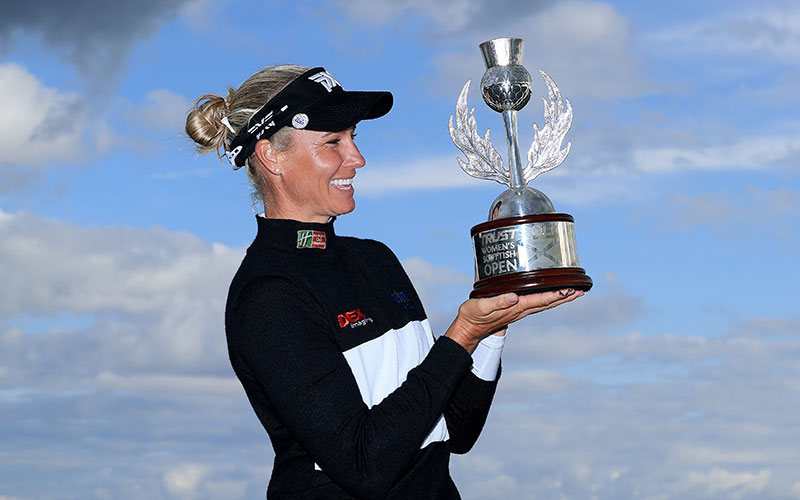 Starting off with three birdies in her first four holes, O'Toole worked magic around the greens on Sunday, recording five more by day's end. For O'Toole, it felt like fate.
"Words cannot describe what I am feeling right now. I still can't even — it didn't seem real. It seems very surreal, and definitely a dream come true. I can't believe it's taken this long to win but it's finally here," said O'Toole.
"I felt staying patient was key. Even the last few events, I've been putting myself up there and couldn't get that final fourth round going. I just think patience. It was never a playing issue or anything like that. It's just getting things to fall or things kind of go your way."
Advertisement
Sign up to our NZ Golf Updates