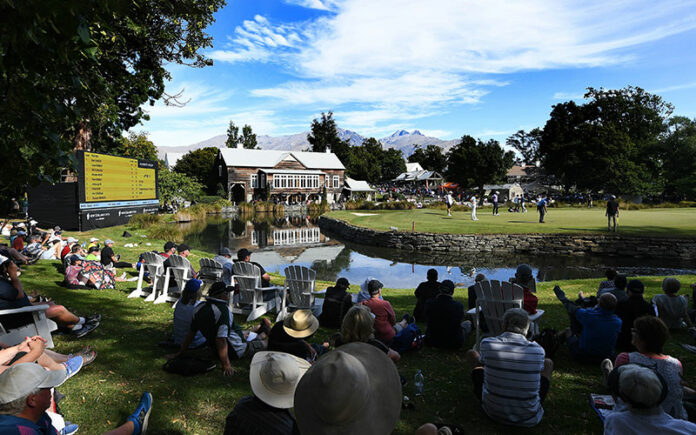 Greens of grandeur, stunning fairways, majestic landscapes and world-class amenities help to cement Queenstown as New Zealand's premier golfing destination. Queenstown boasts seven spectacular golf courses of acclaimed design nestled in dramatic mountainscapes, including three championship courses and four experience courses.
Off the greens, golfers can relax, revitalise, and recharge with Queenstown's celebrated local food scene, award-winning Central Otago wine, and quality accommodation. With plenty of world-famous activities and attractions away from the golf course, non-golfing friends, partners, and family will have a great time too.
Home to the New Zealand Open
The next New Zealand Open is set for 31 March to 3 April 2022 at the award-winning Millbrook Resort. In what has been described as the 'dawn of a new era for the New Zealand Open', New Zealand's premier golfing event will be played over two distinct 18-hole courses at Millbrook Resort for the first time – the Coronet 18 and Remarkables 18.
The biggest event in the national golf calendar, the New Zealand Open provides an incredible opportunity to witness professional players competing in a unique Pro-Am format for the title while also pairing with an amateur to play for the New Zealand Pro-Am Championship.
Professionals and amateurs will experience the brand new championship Coronet 18, making its national and international debut during the New Zealand Open. The
course is a combination of the stunning new Coronet 9 combined with the existing Coronet 9 holes. It is also the first time the tournament players will play on the full Remarkables 18 holes.
QUEENSTOWN BEYOND THE FAIRWAYS
Queenstown is equally as renowned for its food and wine scene as it is for being the Home of Adventure.
There's a vast range of activities for family and nongolfing friends … and for you too, if you can bear to tear yourself always from those immaculate greens! A
lineup of golfing holiday packages for summer 2021/2022 makes Queenstown the perfect place for your next golfing trip.
After a day at Millbrook, Arrowtown Golf Club or The Hills, you don't need to go far for high-quality aprèsgolf. Arrowtown has an excellent hospitality scene, with
everything from classic pub fare at the Fork and Tap and Slow Cuts to incredible cocktails and high-end dining at La Rumbla or Aosta. For those keen to sip on a whiskey while listening to live local music, head to the infamous Blue Door for a night you won't forget.
The vibrant atmosphere of downtown Queenstown will keep you buzzing off the course too. Indulge in fine dining at Rātā or Botswana Butchery, or enjoy high-end rustic fare at The Bunker. For something lighter, head to Little Blackwood or The Sundeck for a cocktail and a cheeseboard or tapas.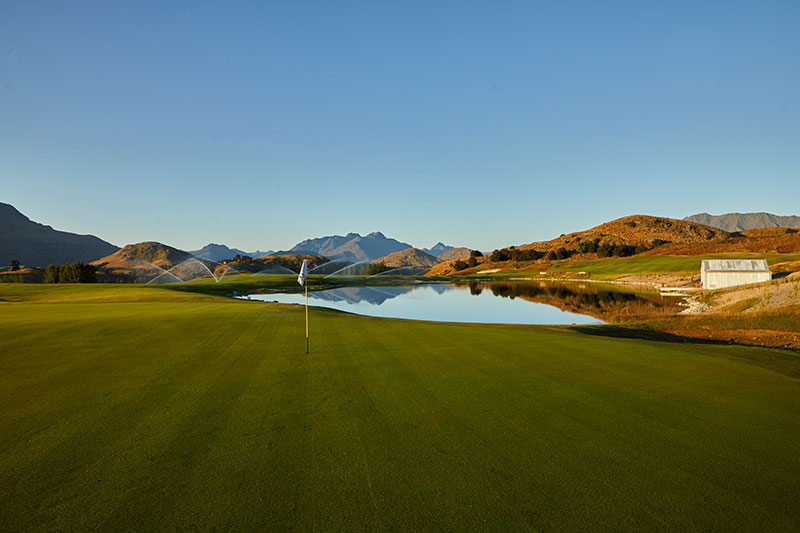 For a day trip, head to crowd-pleasing Gibbston, home to some of the region's oldest vineyards nestled between ruggedly beautiful schist mountains. Go at your own pace and take a self-drive or e-bike tour of the vineyards and return with a bottle of your favourite to share. Or opt for a bespoke wine tour with Alpine Wine Tours, Altitude Tours, or Appellation Wine Tours and relax while their guides teach you about local winemaking and drive you in comfort.
Extend your Gibbston trip further, and pair your glass of wine or beer with a long lunch in the idyllic garden settings of Kinross, Mt Rosa, or Cargo at Waitiri Creek. Visit award winning Gibbston Valley for fresh local fare followed by a visit to their wine cave, the largest in New Zealand.
For non-golfing friends or family, a stunning way to take in some of Whakatipu's scenery is by hiring an e-bike and heading along the Queenstown Trail. This 130km network of world-class trails connects Queenstown to Gibbston via Arrowtown and also connects many of the golf courses too, so it's possible to ride out and catch up with the golfing crew for lunch.
On a non-golf day, start with a lakeside breakfast at The Boat Shed Cafe & Bistro in Frankton or Bespoke Kitchen in Queenstown, followed by a drive to Arrowtown for a movie at Dorothy Browns. This boutique theatre will take you back to the golden age of cinema with its Art Deco décor and red flowing velvet curtains. When the movie is done, have a drink at their Gin Balcony or peruse their bookstore, or wander through Arrowtown and its cobblestone alleyways for a spot of shopping or a bite to eat.
Advertisement
Sign up to our NZ Golf Updates