Sam Pinfold has a life many would envy; caddying on the US PGA Tour for a world 'Top 50' player who happened to win earlier this year. The 35-year old Pinfold has been able to travel the world with the game he loves. The passion and professionalism he brings to his duties caddying for Cam Smith on the PGA Tour has been crafted over the years, carrying the bag for many players including a previous major champion.
He is well-recognised on tour for his work ethic and professionalism but it hasn't been a smooth pathway to the PGA Tour. He has paid his dues, taken opportunities, met a lot of great players and established strong, brotherly friendships with fellow PGA caddies.
Back in early June 2020, as Pinfold was heading to the USA, the New Zealand Golf Magazine sat down with Sam to talk about life on the PGA Tour and how he got there. Just recently, we caught up with Sam on his return home from the PGA Tour where he talked about his experiences with the Tour's Covid-19 processes and the impacts of the global pandemic on the game.
Golf was a big part of Pinfold's life growing up in Wellington. He learned to play the game at the Whitby Golf Club and went on to play most of his golf at Manor Park representing the club in the Duncan Cup competition and representing Wellington in the Junior age-group teams (Under 18 and Under 21's) and the 10-man senior team.
At age 22 and knowing his game wasn't strong enough to turn professional, he moved across to the Gold Coast and took up a golf position at Royal Pines. There he worked for 18-months before he got a phone call from his old golfing mate, Brad Iles.
Iles was returning to the US after qualifying for his Nationwide tour card at the 2007 USPGA Qualifying School.
"It was supposed to be a temporary gig to have some fun, help Brad out, and see some of the US," Pinfold explained.
"I went out on tour with him for what was supposed to be a 9 to 10 week trip to caddy in eight events."
According to Pinfold, he had no intention to caddy full time, but it just ended up that way.
"For Brad everything on tour was new but he was playing well. He wanted a caddy who knew golf and knew him, so in one way I had the bigger learning curve, as it is more than just picking up the bag and heading to the first tee!
"I quickly learnt about the playing conditions, about Brad the player and the other players around him; preparing appropriately so Brad always had all the information he needed.
"I quickly became good mates with some of the other caddies on tour, mostly the Kiwi and Aussie guys.
"At the same time Marc Leishman was establishing his pro career and I knew Marc from playing a lot of the same amateur events when he had come over from Australia to play in New Zealand. His caddy, Matty Kelly and I have been best mates and travel companions over the last twelve years!"
Brad Iles played some very good golf over his six years on tour; he was only one "good week" away from getting a tour card. He lost in a play-off at the 2009 Knoxville Open to Kevin Johnson but unfortunately for Pinfold, he had taken the week off to fill in and caddy for Marc Leishman on the PGA Tour.
"It was great to experience those years on tour with Brad as we were great mates and it was a lot of fun. It would have been great to see him have more success but that is the life of professional golf. I'm just glad I said "yes" to go and caddy for Brad," Pinfold said.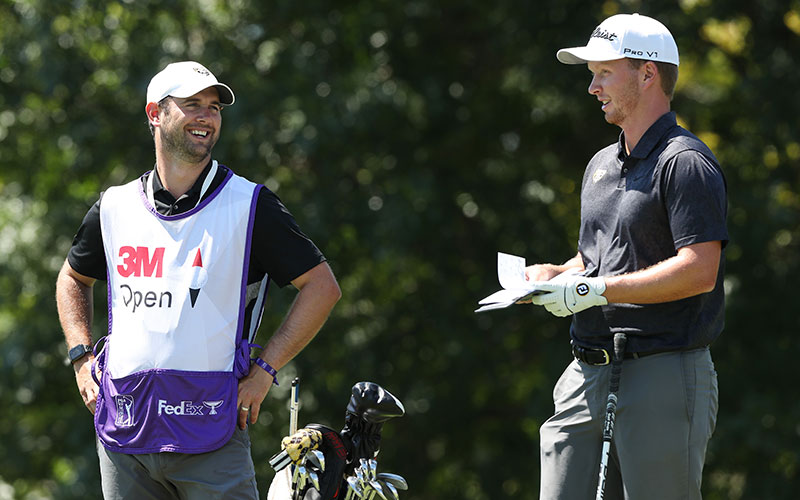 Caddying on the Nationwide Tour is not as easy as the PGA Tour.
"Me, Matt Kelly and Joe Skovron (who is currently Ricky Fowler's caddy but who was Brendan Steele's caddy at the time) plus some of the other Kiwi and Australian caddies would share hotel rooms and rental cars.
"It was important that Brad and I were not in each other's pockets, so we maintained that freshness on the course. I would get away and travel in my off weeks and saw a bit more of the US.
"I would be in the US for 8 to 9 months at a time and then come home and find a job for 3 or 4 months to rebuild the bank account before I headed away on another season caddying."
In 2012, Brad lost his Nationwide Tour playing status so Sam picked up the bag for Australian, Aron Price who had been playing well.
"Aron played okay, but in 2013, I made the decision to move to the PGA Tour. I was seeing many of my mates doing well and five years on the Nationwide Tour had been a great apprenticeship and training ground and I wanted to be on the big stage.
"So I would show up at tour events on the Monday and Tuesday chasing a bag for the week. For 13 or 14 weeks I did this with nothing lined up pre-tournament. Fortunately, I had good mates that were assisting me to find a job and I was able to travel with them.
"I filled in where needed and caddied for Australian Scott Gardiner for 3-months, Ryo Ishikawa and then for Brendan Steele."
"Overall, it was a good year working for more money and I learnt to adapt to other players. They all had their nuisances, so it added to my development and confidence as a caddy.
"My reputation as a PGA Tour caddy was also building, plus I learnt a lot more about people and what made them tick."
At the end of 2013, Pinfold accepted a full-time job caddying for Brendan Steele for the 2014 PGA Tour season.
"I had worked the last three tour events for him and that had gone well. Upon heading back to the US in February to meet Brendan, I was denied US entry through a technicality with my visa," Pinfold explained.
"I arrived at Los Angeles to be told I had the wrong working visa. I was allowed my one phone call and had consulate support from the NZ Office there, but 10-hours after arriving I was put on a plane back to Auckland.
"I didn't see daylight and it wasn't a very pleasant experience."
On Pinfold's return to New Zealand, he engaged an immigration lawyer that eventually got him the appropriate working visa but unfortunately, that ended his time with Brendan, who had to find another caddy.
Back in Aotearoa, Pinfold decided to head down to Queenstown and get a caddy job at the 2014 New Zealand Open.
"I picked up Michael Sim's bag, a former PGA Tour player, and we played practice rounds with Cam Smith. I had met Cam at the Australian Open the previous November."
"Unfortunately, Michael missed the cut but on the Friday night, while having a catch-up with some mates, I got a call to see if I wanted to caddy for Cam over the weekend as he and his caddy didn't click.
"The next day he went out and hit all 18-greens and shot 66 and played solidly on the Sunday for a strong 'Top 10' performance for the 20-year old golfer and our player-caddy relationship was established. His plans were to head to the USA and play his way onto the PGA Tour, so we agreed to link up when we could."
He returned to the PGA Tour in May with his new work visa and picked up the bag for Trevor Immelman.
"He was a very professional player and it was great to caddy for him for one year including at the Augusta where he had won the Masters in 2008. But in July 2015, I got the call I had been waiting for; Cam Smith had temporary PGA Tour status after finishing T4 at the 2015 US Open at Chambers Bay."
Their first event together on the PGA Tour was at the 2015 PGA Championship at Whistling Straights. Smith finished 'Top 25' and was playing "world-class" golf even though he was only 21-years old.
"At this time, Cam wasn't known as a long hitter but he was very consistent off the tee. He is regarded as being one of the best chippers and pitchers in the game.
"When he is on, he can win but he realised he needed to get longer off the tee; something he, his trainer and coach have worked on so he is more competitive off the tee.
"Unfortunately, he wasn't eligible for the play-offs or the autumn events and then he struggled in the 2016 season, finishing 157th on the FedEx rankings. As he was still based in Australia and commuting back and forth across the Pacific, he wasn't really settling into life in the USA".
Pinfold had also taken five weeks off at the time as his father had died.
"Overall, it wasn't a great year. So, in September 2016, Cam and I headed to the Web.com Tour play-offs. We both knew Cam was too good a player to be on the Web.com tour, but with a strong focus, he played well enough to finish 2nd at the Nationwide Children's Hospital Championship, therefore giving him status for the 2017 PGA Tour season."
Smith started the new season making his first five cuts through October and November and then played solidly through the start of 2017. This built to a strong tied-for-6th finish at the Valero Texas Open before winning the Zurich Classic team event in New Orleans in a playoff with partner, Jonas Blixt.
Pinfold set up the partnership as Jonas owns the house where he rents a room. Together they never made a bogey over the 72-holes! Smith then had a 7th finish at the Wyndham Championship and finished 46th in the FedEx Rankings.
For Pinfold, the partnership he saw in Queenstown a few years back was getting stronger as Smith started the 2018 PGA season with lots of confidence. He continued to build it with a T5 in Malaysia and 3rd place finish in Korea. Six weeks later he would go on to win his first Australian PGA Championship.
"It was great to return to Augusta and see Cam play well at the 2018 Masters. I love this event and I, like most of the players and caddies, are excited to return there year after year," Pinfold explained.
"It is an amazing venue and everything about it is very special. At Augusta, I get that level of excitement where the hairs stand-up on the back of your neck, so it was great to be part of something special when Cam shot 30 on the back 9 playing with Dustin Johnson.
"We had Jordan Speith and Justin Thomas right behind us, so we were right in the middle of the action! Unfortunately, Cam missed a 4-footer on the 18th green for 29 that would have made history on the back 9 on Sunday."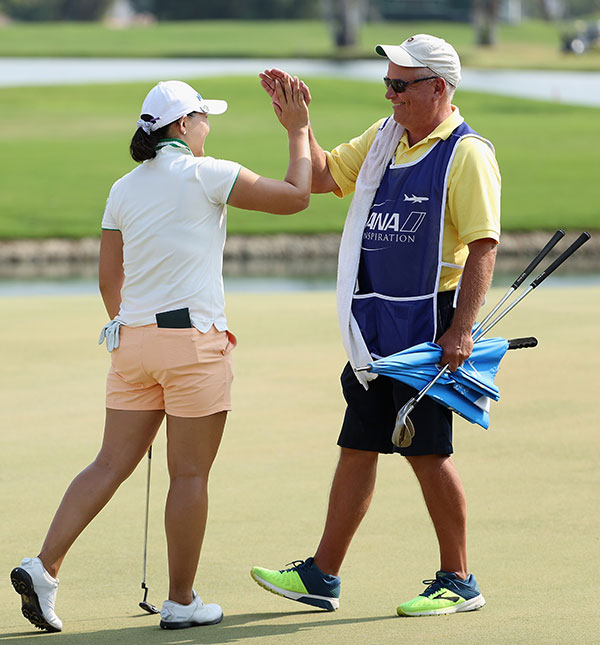 Earlier this year, Smith played well and won the Sony Open. He made a great up-and-down for birdie on the last hole to tie Brendan Steele and then went on to birdie the play-off hole to win the event. According to Pinfold, "The conditions were warm and breezy, but the course was wet and long, so tougher than normal. I can't say I thought we would win this tournament, even though Cam had been playing well without his usual Australian summer break."
"He started with a bogey and then a triple bogey so he was 4-over after 2-holes which isn't a great prelude to winning the tournament! Cam's success can be attributed to the work he had done leading into the previous month's Presidents Cup event at Royal Melbourne."
For Pinfold, the Presidents Cup would have to be one of the top three or four events he has been associated with.
"Everything about it was awesome! It was my first team event, and everything was laid on. The bus rides to and from the golf course were even special. Louis Oosthuizen and Adam Scott were great leaders. The spirit and belief that the players had at the event really ramped up the atmosphere and obviously the Australian crowds were awesome – plus there was Patrick Reed!
"Royal Melbourne is a very special course and it takes imagination to play it well. There was a strong will to win and it was gutting to come so close and not quite finish it on the last day. But I do look back fondly as Cam played well to beat Justin Thomas on the last day."
"My life on tour is a lot of fun but it is also serious work. Obviously, Augusta is a highlight but we both enjoy the British Opens.
"The atmosphere of the crowds, courses are great, and I love links golf. I know Cam loves these styles of courses, so I know we have a chance at the start of the week.
"The Australian events are enjoyable as it is also a great time catching up with friends there so it's a lot of fun. Hawaii is also special, and I like Hilton Head which is played the week after The Masters. As my US base is in Jacksonville, Florida I really enjoy The Players Championship. Again, another great event with a special atmosphere."
When Sam Pinfold is not on tour, he spends time enjoying life in New Zealand.
"In a typical year, I am home 16 to 20 weeks and I still love getting out and playing golf. I currently play off a 3 or 4 handicap so it's good to play socially when I'm home or especially when I head back to my old stomping ground at Paraparaumu.
"My other passion is horse racing and I have an interest in four horses with two in New Zealand and two racing out of Brisbane. One has been a seasoned campaigner that has given us lots of thrills and one will soon be starting her career".
Pinfold is fortunate to be able to enjoy life on the tour working with friends who have become like family over the years. New Zealand Golf Magazine wishes Sam Pinfold and his player Cam Smith all the very best for the coming 2020/21 season!
Advertisement
Sign up to our NZ Golf Updates