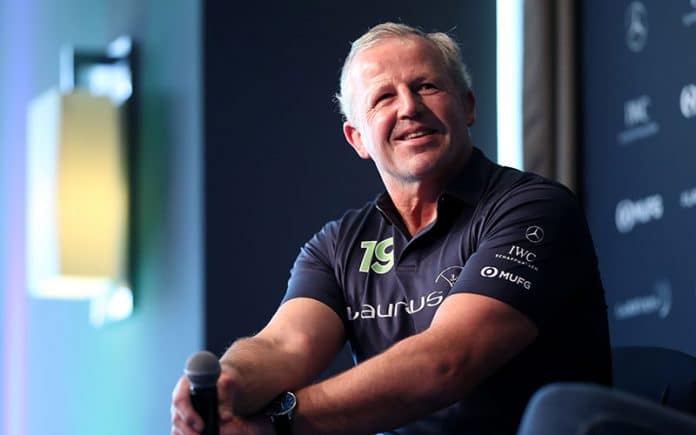 He is a former All Black who played a record 92 tests between 1986 and 1997, 51 of those as captain from 1992, also a record, and widely regarded as one of the finest players ever to come from New Zealand. He took up golf at the ripe old age of 23 and today we find out all about his interest in golf with our Quick Round with Sean Fitzpatrick.
How old were you when you started playing golf and who got you started?
I'd always had an interest growing up because my great aunt Chris Corkery was the ladies poverty Bay champ for many years but I was a late starter myself. It wasn't until I started touring with the All Blacks.. so about 23 years old. I seem to remember Grant Fox ran the golf school on tour!
Where did you start playing golf?
I was a member at The Grange in South Auckland.
What is the lowest handicap you have ever played off?
11
My lowest round was?
79 at Royal Auckland Golf Club
How many holes-in-one have you had?
Zero. But witnessed my wife getting her first one on the 8th at Gulf Harbour last Christmas which has only made me try harder!
How far do you hit your 7-iron?
170 yards
What is your biggest fear on the golf course?
Out of bounds and knobbing it off the first in front of the clubhouse at The Berkshire, where I play here in the UK
What is your biggest frustration (pet peeve) when playing golf?
Slow play. And, personally, not concentrating which happens a lot!
What do you most love about playing golf?
Playing with your friends and family. And knowing it is a sport we can hopefully play well into our 80s!
What is your most memorable moment in golf?
I've been fortunate enough to play in the Dunhill Links on a few occasions. Having your name announced and teeing it up on the first at the Old Course at the Home of Golf, St Andrews, is hard to beat.
What is your favourite golf course?
Wairakei. Not only is it an incredible course, but it is pretty special playing on a beautiful bird sanctuary at the same time. And it's worth saying, anyone I have taken to play there in the past thinks the same!
Who is the most famous person or best golfer you have played with?
I am very fortunate to be a member of the Laureus World Sports Academy. The late Seve Ballesteros was also a member and I was lucky enough to play a round with him at Monte Carlo Golf Club in 2000.
What is the most memorable time/experience you have had on the golf course?
One of the things I love about golf is having the opportunity to play with guys who I have played against on the rugby field. In 2015 during the Rugby World Cup we had a day at the Berkshire with 30 ex-internationals and coaches. A good day of banter and memories on and off the course!
If you could pick any three people, alive or dead, to play in a four-ball with, who would they be? Any particular reason for your choices?
My wife's uncle, Nev Dowden, who still to this day is the most beautiful golfer I have ever played with and taught me so much about the game. Gary Player and Michael Campbell – both major winners, good people and heroes of mine!
Who would you get the most satisfaction out of beating on the golf course? And why?
Anyone at this stage.. I haven't had a lot of success lately!
My favourite golf destination is?
Scotland. It's where the game started and still so special.
My favourite golf movie is?
Don't think I have one, but I have been watching a lot of Ryder Cup replays during lockdown. Miracle at Medinah has to be a favourite.
What is your favourite thing to do away from the golf course?
Spending Christmas at the family Bach in NZ. Boating, trying to fish and spending time with the family.
---
See our quick round with Jeff Wilson here.
Advertisement
Sign up to our NZ Golf Updates