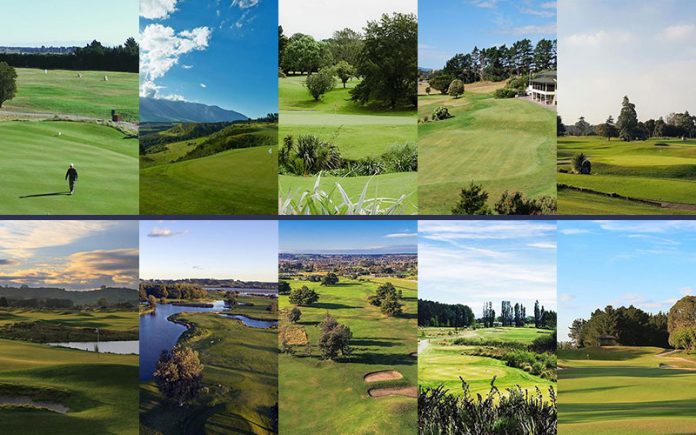 Today we bring you the second batch of Top 40 New Zealand golf courses, those ranked from 30th place down to 21st and over the next few weeks we will continue to release batches of ranked courses until we reach number one.
As the country is currently in lockdown and no golf is being played, it is the perfect time for golfers around the country to think about their favourite days golfing and their favourite golf courses.
The rankings have been compiled from twenty-seven "rankers" submitting their Top 12 courses in the North and South Islands.
The 27 member ranking panel has nearly 1000 years of combined golf experience, with "rankers" from Invercargill through to North Auckland.
See those courses ranked 5th to 1st here.
See those courses ranked 10th to 6th here.
See those course ranked 20th to 11th here.
See those courses ranked 40th to 31st here.
30th to 21st
Here is today's batch of golf courses ranked 30th to 21st.
30 Whitford Park Golf Club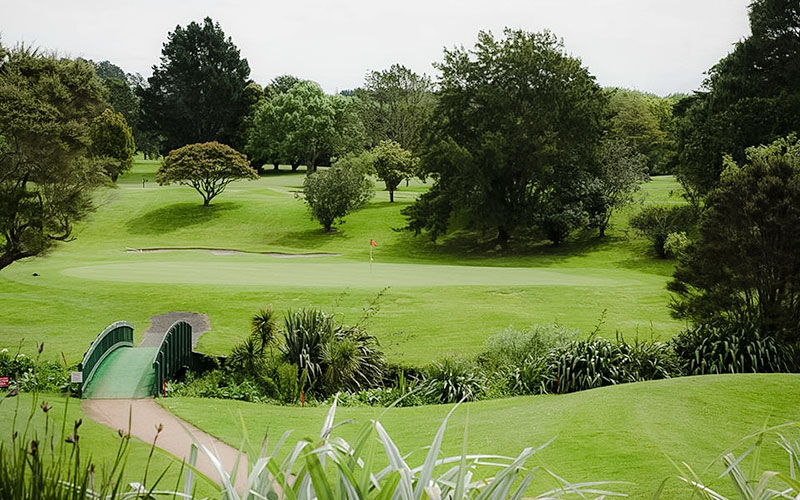 Scored 28.81 points, Ranked 29th in 2018
Whitford Park is a par 71 championship golf course, set amongst 254 acres of beautiful indigenous trees and streams. The 18 hole course measures 6250 metres from the Blue tees. The greens are consistently among the best available in New Zealand while the couch grass fairways provide a delightful playing surface throughout the year.
Regardless of skill levels, the course offers all golfers the challenge of a great game in beautiful park-like surroundings. You can play for a day as a visitor or become a member.
29 Mangawhai Golf Club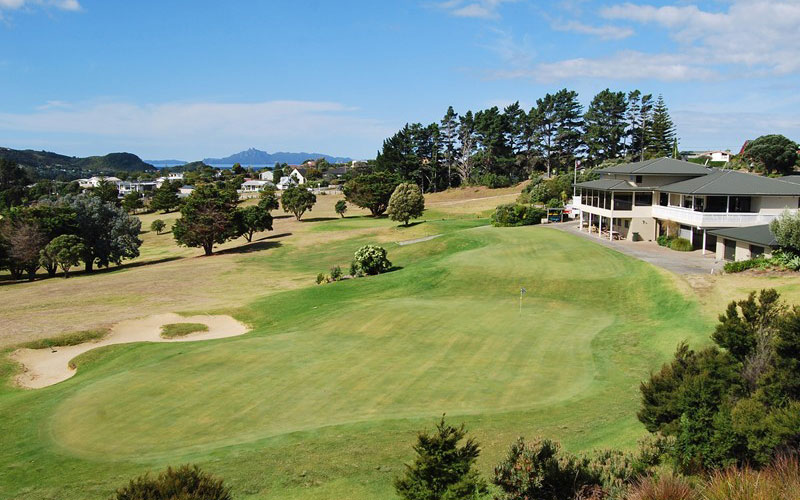 Scored 25.84 points, Ranked T23rd in 2018
Mangawhai Golf Club is an 18-hole championship course that is sand-based, so the course is always playable and offers challenge and reward for golfers of every ability. Well-groomed fairways and immaculate greens are the course's hallmark, with the greens regarded as exceptionally quick and true. The course is set amongst native flora and follows the natural, gentle undulations of what is described as perfect golfing terrain.
Only an hour drive north of Auckland, Mangawhai has all the facilities including clubhouse, bar, cafe and golf shop and is always popular with visitors providing the perfect environment for an unbeatable day of golf.
28 Hamilton Golf Club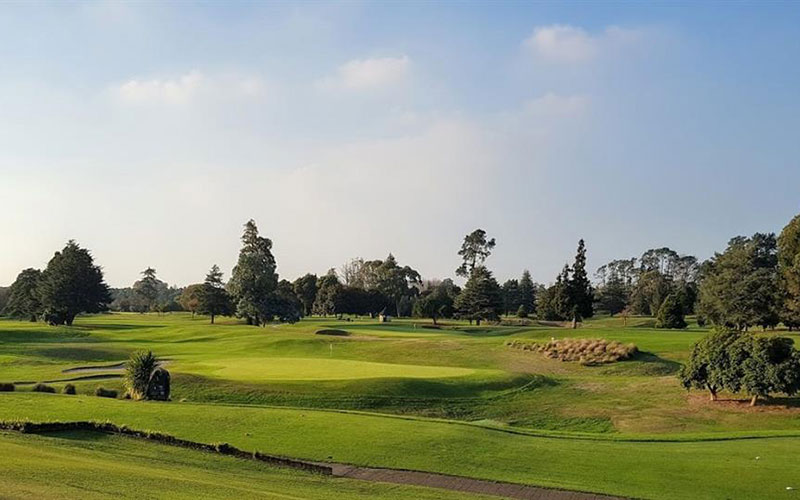 Scored 26.19 points, Not ranked in 2018
The Par 72 Hamilton Golf Club course is a rolling parkland layout, featuring more than fifty bunkers, and the ever-present 'Mighty Waikato River' nearby. Located in the suburb of St. Andrews, the course is an embodiment of the core values that the game was established upon at the other 'St. Andrews' in Scotland.
Holes that invite courage and boldness are tempered with other holes where restraint may yield superior results. Thoughtful tree planting since opening more than 100 years ago, has created a parkland course that meanders elegantly across its riverside layout. Unearth your true strengths as a player as you have your entire game put into question.
27 Wanganui Golf Club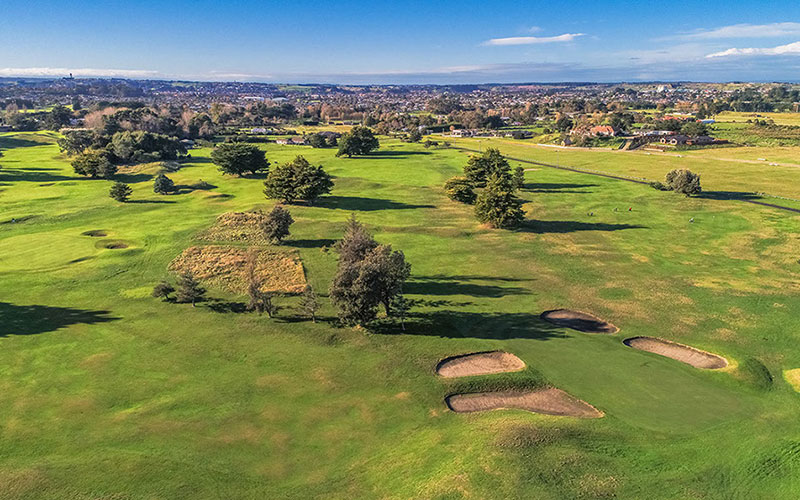 Scored 26.36 points, Not ranked in 2018
The Wanganui Golf Club is one of New Zealand's oldest courses with over 120 years of history, and it presents a real challenge for players of all abilities and is enjoyed by all those who play its sand-based fairways. The club has two distinctly differing nine holes of undulating rolling fairways to the flatter almost links like back nine and is renown for the quality of its greens.
Set on the outskirts of Wanganui the Belmont Links have superb vistas of the Tasman Sea, but be warned the prevailing westerly also has a bite and golfers need to bring their whole game with them. Wanganui Golf Club boasts a modern, well-appointed Clubhouse offering superb views of the back nine holes of the Course, and out to the iconic Wanganui City water tower and eastern hill suburbs.
26 Windross Farm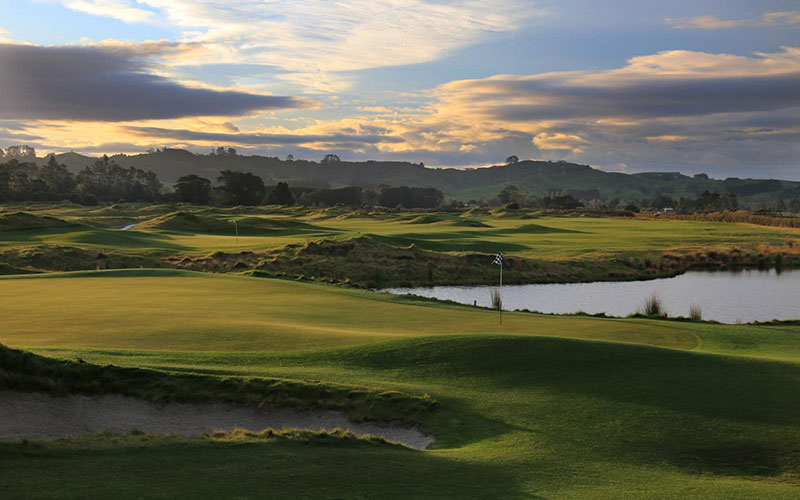 Scored 26.43 points, Ranked 21 in 2018
Just 30 minutes from the Auckland CBD, Windross Farm offers a utopia of golf heaven being a very playable, yet challenging, course immersed in charming surrounds where everybody has a chance to score well.
Windross Farm has been developed as a unique links-style course that offers a mixture of flat and undulating ground, man-made lakes and strategically placed dramatic bunkers to offer the best of golf and the natural environment. Both the clubhouse and facilities have been designed with a minimalistic and understated philosophy in mind and they truly complement the unique golf course, to complete the overall picture.
25 Harewood Golf Club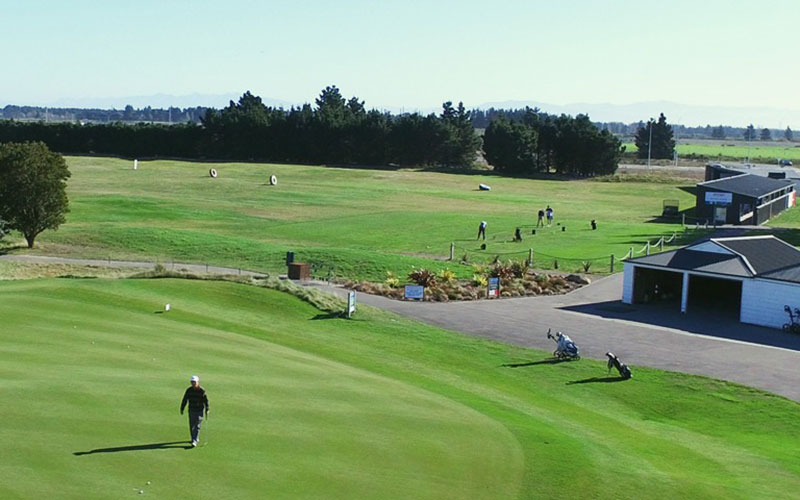 Scored 26.64 points, Ranked 39 in 2018
Harewood Golf Club poses invigorating challenges for golfers of all ages and skill levels, with a choice of Black, Blue, White, Yellow and Purple tees to suit all abilities. The Club boasts some of the best practice facilities in the South Island with a 23-bay covered driving range, large grass teeing areas and a fantastic short game practice area and putting green.
Conveniently located just minutes from Christchurch's city centre and within close proximity to the airport, Harewood is also proud to host the only South Island event in the annual Jennian Homes Charles Tour series, the Harewood Open held early October each year.
24 Pegasus Golf Resort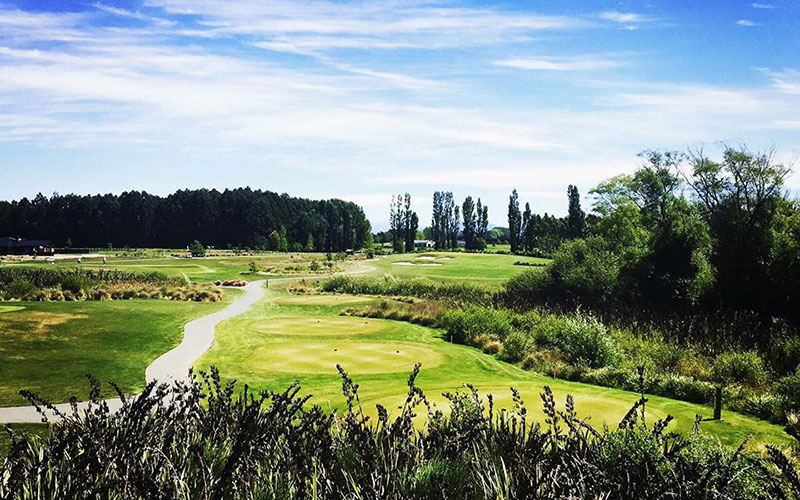 Scored 26.75 points, Ranked 27 in 2018
Pegasus Golf & Sports Club is just north of Christchurch and close to the centre of Pegasus town. Renowned for one of the best golf courses in New Zealand, Pegasus Golf & Sports Club is set against a diverse and breathtaking landscape of mountains, water features and the natural wetlands of Pegasus Bay.
The club has been designed to create a fantastic experience for every level of golfer, and for non-golfers too. As well as a magnificent 18 hole championship course it features a range of excellent facilities including a driving range, practice greens, pro shop, tennis courts, and a well-equipped gymnasium.
23 Omaha Beach Golf Club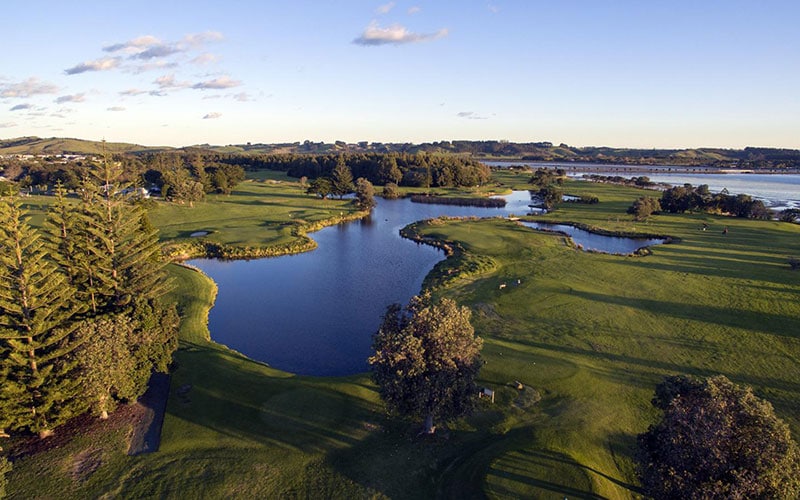 Scored 26.8 points, Ranked T32 in 2018
The 18 hole, par 70 Omaha Beach Golf Club is less than an hours drive from central Auckland and a world away from the frenetic pace of the city. It's a links-style resort course, crafted by its designers to make the most of its stunning seaside location.
Bordered by the sea on one side and a natural estuary on the other, it is a course that offers a unique and pleasant golfing experience. Native Totara, Pohutukawa, Manuka and a large stand of Kahikatea all add to the natural beauty of the course.
22 Christchurch Golf Club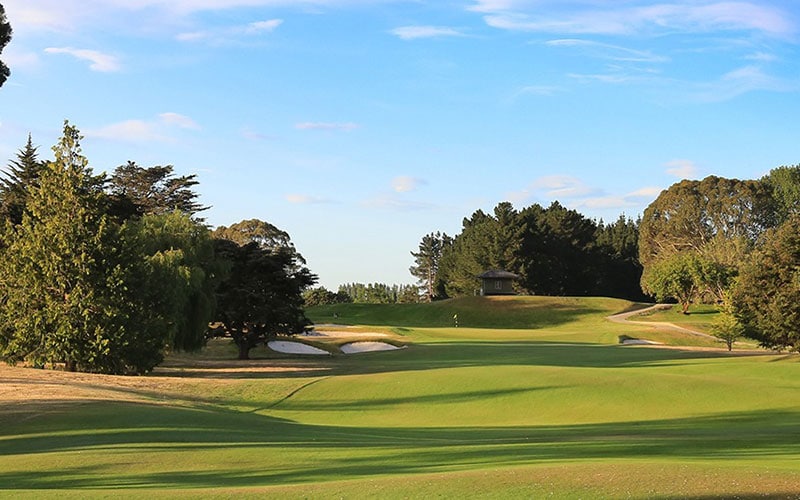 Scored 26.82 points, Ranked 22 in 2018
The Christchurch Golf Club has a proud history dating back to 1873. The club is the second oldest in New Zealand and one of the oldest outside the United Kingdom. The club has hosted numerous New Zealand Open and amateur men's and women's championships, including the 1990 World Eisenhower Amateur teams tournament.
The course is situated only 20 minutes from the airport and is renowned worldwide as a challenging championship course of the highest quality, offering a fair test of golf to both the club or professional golfer.
21 Terrace Downs Golf Resort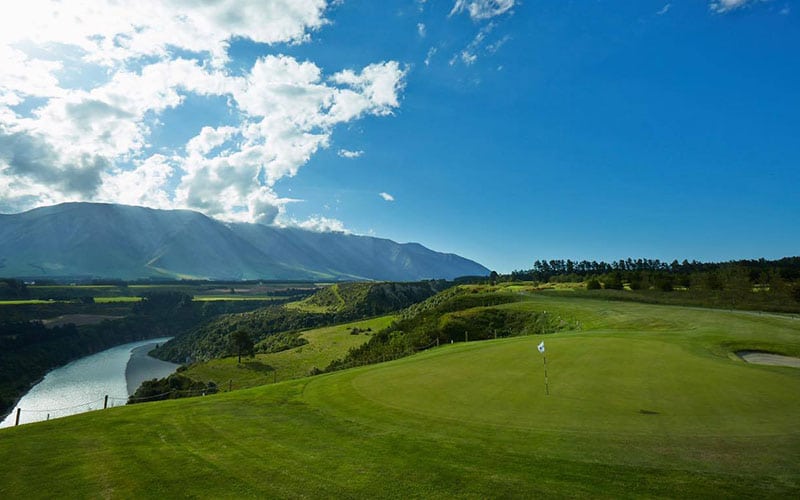 Scored 27.05 points, Ranked 26 in 2018
Just 50 minutes from Christchurch International Airport, and boasts New Zealand's only high country golf course, Terrace Downs offers an ideal 'getting away from it all' destination close to Mt Hutt Skifield and Methven.
Terrace Downs' breathtaking, 6440-metre long, par 72 course has been designed to take full advantage of the dramatic terrain and at every tee, you are afforded new and captivating vistas of the majestic mountains, river terraces and braided channels of the Rakaia River. Whether you can swing a club like a pro or are playing for the first time, the course at Terrace Downs will captivate and enchant you.
---
See those courses ranked 5th to 1st here.
See those courses ranked 10th to 6th here.
See those course ranked 20th to 11th here.
See those courses ranked 40th to 31st here.
Advertisement
Sign up to our NZ Golf Updates